1010 West Washington Street, Boise, ID, USA


What's so offensive about a Proud Ancestry?

BOISE HIGH SCHOOL HISTORY
In 1903, the booming population of the Boise School District dictated the replacement of Central School, which housed the district's secondary students, with a new high school. The district purchased land on Washington Street, and the new high school was built in the center of the block. The school was a two story structure and, upon its opening, board members asserted that this was a building large enough to serve Boise for all time.
In 1908, an east wing was added to the center section. The architecture of this addition was of a more modern design and the outside was white brick rather than the usual red bricks of this period of time. In 1912 the west wing was added, using the same architectural style as was used in the east wing. In 1922, the red brick middle section was replaced with a matching white brick structure with an entryway featuring huge columns. This section included a state of the art auditorium that was used by both the school and the community. The new section had a basement and three floors.
In 1919, the Industrial Arts Building was constructed adjacent to the main building This building housed the Boise High print shop, where, for half a century, much of the District's printing was done.
In 1936 a new gymnasium was built. Students had saved their nickels and dimes and put them in a fund which covered some costs of the structure. The new gym replaced the cracker box located in the basement of the main building. The ceiling in the old gym was so low it interfered with the playing of the game of basketball. The WPA furnished the labor to build the gym.
In 1957, a new music building was added on the west side of the gym. The two blocks west of the school were purchased in the early 1960's and turned into an athletic complex for practicing football, track and tennis.
In the late 50's and early 60's, Boise became more metropolitan, and students from the Baby Boom generation began to arrive in the city's high schools. Growth on the west bench necessitated construction of a new high school, Borah, in 1958. In 1965, the district's third high school, Capital, opened on Goddard Street in Northwest Boise.
The 1980's were a period of rapid growth in the southeast area of the city, as Boise gained a nationwide reputation as a nice place to raise a family. In the late 80's, Boise High's population began to explode, and enrollments were closed for some classes. At the same time, the old building began to show its age, and the Board of Trustees undertook several studies of possibilities for replacement of the school. Public debate raged for almost three years; a bond issue which had as its key element the refurbishment of the high school failed in Spring, 1993. In 1995, the Board voted to run another bond for the construction of two new junior highs and two new elementary schools and the improvement of many buildings. The February bond election passed, with over 70% of electors voting yes.
Our Mission, Principles & Beliefs
OUR MISSION/PURPOSE
Through academic achievement and character development, the Boise High community will provide the essential knowledge and skills for students to make a significant impact on the diversified world in which we live.
GUIDING PRINCIPLES WE HONOR
We value:
Respect of self, others, the environment
Responsibility for choices and actions
Honesty in all relationships
Courage to face difficulties and to stand up for one's beliefs
Compassion for the needs and feelings of others
Loyalty to family, school and community
Results that reflect serious effort and commitment to excellence
SCHOOL BELIEFS INVENTORY
We believe student learning is the chief priority for the school.
We believe in providing a safe, inclusive, substance-free environment so that all students can learn.
We believe each student is a valued individual with unique physical, social, emotional, and intellectual needs.
We believe in enhancing student self-esteem by celebrating diversity and building positive relationships among students and staff.
We believe students learn in different ways and should be provided with a variety of instructional approaches to accommodate different learning styles so that students are actively engaged in the learning process.
We believe in providing opportunities for all students to demonstrate continual improvement in academic performance while applying their learning in meaningful, real-world contexts that prepare them for post high school success.
We believe in providing technological opportunities for all students so that they may meet the demands of an ever-changing global work force.
We believe in promoting good decision-making and civic responsibility among students through our Character Education program and by modeling our guiding principles of respect, compassion, courage, responsibility, and honesty.
We believe in sharing the responsibility and accountability of continuous school improvement with students, all school personnel, parents, and the Boise High community to enable students to become confident, self-directed, and lifelong learners.
OUR GOALS
Our philosophy of education is made operational through the implementation of our goals. To this end, Boise High School will:
Provide all students the opportunity to understand the purpose of school as it relates to workplace skills and career development;
Encourage students, staff and parents to develop positive connections with each other, within the school and with the community;
Offer quality educational experiences which recognize and challenge the varying talents, learning styles and unique needs of its student body;
Implement a curriculum that requires all students to master fundamental skills and competencies as outlined through the State Standards;
Provide students with the problem-solving and critical thinking skills needed for successful private decision-making as well as for meaningful participation in their society;
Help students to assess, develop and value a sense of self-actualization through an understanding of their talents, interests and abilities.
STUDENT RESPONSIBILITIES
ALL STUDENTS NEED TO ACHIEVE TO THE BEST OF THEIR ABILITY.
Learning can be enjoyable and rewarding, but it requires students to work to their maximum potential. Boise High School has high academic standards for its students because they have the ability and the desire to succeed. The school is responsible for providing a competent staff and a climate that is conducive to effective learning. Students are responsible for making a commitment to their educational program and offering their best efforts in every class.
ALL STUDENTS NEED TO MAKE CONSISTENT ATTENDANCE AND PUNCTUALITY A DAILY EXPERIENCE.
It is difficult, if not impossible, to benefit fully from in-class learning experiences without regular daily attendance. New teaching technologies and instructional strategies simulate the workplace experience more than ever before. Cooperative and collaborative groups work best when every class member is present every day.
ALL STUDENTS NEED TO MAKE THEIR HIGH SCHOOL EDUCATION THEIR TOP PRIORITY.
The school day is a full time job and deserves students' full attention and participation. Out-of-school employment should be limited to weekends so that students have time to complete homework assignments and participate in extracurricular activities.
ALL STUDENTS NEED TO KNOW AND RESPECT OUR SCHOOL'S RULES OF BEHAVIOR.
The best learning takes place in an orderly environment. It is every student's responsibility to contribute to a safe and orderly school climate. Living with values and ideals that demonstrate respect for self, for family, and for community, contribute to a student's success and achievement. Resolving conflicts through mediation, keeping appointments with teachers, turning work in on time, attending class consistently, being punctual, valuing the diversity of the school's population and supporting school activities are just a few of the ways in which students can be responsible, significant members of their school community.
COMMITTED TO EXCELLENCE
The Tradition Continues
Boise High School 
1010 W. Washington Street, Boise, ID 83702
208.854.4270 | FAX 208.854.4271 | Attendance 208.854-4274
Committed to Excellence Since 1881
If you see something that truly doesn't make sense…say something now!


Contact the following Boise High School Administrators and let them know how you feel about changing the more than 100 year old mascot:
Robb Thompson – Principal                         208-854-427             email Mr. Thompson
Kelly Fossceco – Asst. Principal A-G           208-854-4280         email Ms. Fossceco
Jeff Roberts – Assist. Principal H-O            208-854-4265         email Mr. Roberts
Trevor McKenna – Assist. Principal P-Z     208-854-4281         email Mr. McKenna
Brian Barber – Athletic Director                   208-854-432           email Mr. Barber

Click the links below for more information About BHS: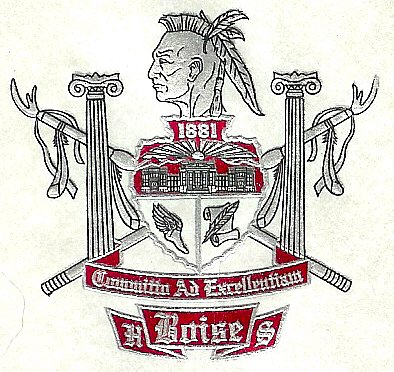 HERE WE GO AGAIN…BUT WHY? What's so offensive?
CONTACT the IDAHO STATE BOARD of EDUCATION Members below and let them know this mascot change doesn't make any sense:
(These are elected officials and IDAHO VOTERS need to let them know how they feel)
We are not affiliated, associated, authorized, endorsed by, or in any way officially connected with any other company, agency or government agency. All product and company names are trademarks™ or registered® trademarks of their respective holders. Use of them does not imply any affiliation with or endorsement by them. Retailers are under no legal obligation to accept offers or coupons.