7050 Highway 55, Horseshoe Bend, ID, USA
From our family to yours.
CASCADE RAFT & KAYAK · Cascade Raft and Kayak is proudly owned and operated by the Long family. After years of whitewater adventuring together, this family loves it more than ever. You'll notice the professionalism come through in all the details of your trip, thanks to Tom and Debbi's decades of hospitality experience. Their sons Kenneth, Chad, and Tren-and their wives, Anne, Krista, and Linzie – all are avid whitewater enthusiasts who add youthful exuberance, their own expertise, and contagious passion for river fun.
Whitewater Rafting
YOU WILL LOVE IT, AND EVERYONE ELSE WILL, TOO!
Since 1985, Cascade Raft and Kayak has been offering the best in Idaho whitewater rafting trips. As Idaho's favorite outfitter, we bring families and friends together, one splash and laugh at a time! We offer a wide variety of whitewater rafting trips, and you can trust that we will have a trip that will be perfect for you.
Located just 45 minutes from Boise, Idaho, our facility overlooks the Main Payette River. After your raft trip, take a look at your action-packed set of photos, enjoy a snack from our café, and sip a microbrew on tap on our Bistro Deck. At Cascade Raft and Kayak, bring your spirit of adventure; we'll provide the rest.
Best Idaho whitewater rafting for Families
This three-hour getaway has playful rapids, perfect for everyone-especially families, first timers, groups, and tours. Young and old, beginners and veterans alike enjoy splashing, sunning, and whitewater fun on this friendly Class II-III river trip.
Adults $45 • Youth 5-12 $30
Departure Times: 9:30AM, 1:30PM, 5:00PM
Thurs-Sun: 9:30AM, 11:30AM, 1:30PM, 3:30 PM, 5:00PM
Spectacular scenery with glimpses of Idaho's abundant wildlife highlight this full-day trip as you glide through eleven miles of dense, remote forest. Relax in the warm water, enjoy your delicious riverside lunch on this Class II-III section, and let the river wash the world away.
Adults $85 •Youth 12 and under $60 (lunch included)
Departure Time: 9:15AM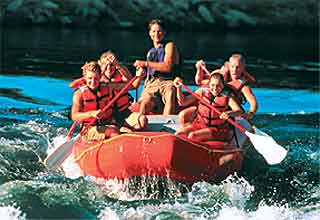 Kayak Instruction
JOIN THE NORTHWEST'S PREMIER KAYAK SCHOOL.
Located on the banks of the Payette River, Cascade Kayak School is in the heart of Idaho's famous whitewater. We use a proven teaching progression that quickly develops your competence with the primary goal of promoting safety.
Under the direction of Tom Long and Chad Long, our instructional staff brings with them years of experience and a passion for teaching. Our instruction will help you improve your skills at any level of paddling.

WEEKEND COURSES
From basic strokes and river maneuvers to more advanced techniques, spend a couple of days with us for a solid kayaking foundation. Our 3-to-1 student to instructor ratio ensures personal attention. Choose from an introductory course, or an advanced whitewater class. $225-$245 per person.
PRIVATE INSTRUCTION
If you have a tight schedule or specific learning goals, call us for a private lesson. Private instruction is a great learning value for your time. If have a group of paddling partners or friends, book a semi-private class. Experienced instructors will help you move your paddling skills to the next level.
Private Lesson (1 person) $225/day, $120/half day
Semi-Private (2 or more) $145/day, $90/half day

KIDS CAMPS
Friends, fun, excitement and more! Youngsters of all kayaking levels will find non-stop action and challenge. Each day is designed to teach kayaking skills and build confidence while the kids have a (well-supervised) blast with other young thrill seekers.
2-day camp (ages 8-11) $225
4-day overnight camp (ages 12-18)$525
CHILEAN EXPERIENCE
Enjoy the warmth of the South American summer, as you sharpen your kayaking skills in the pristine rivers of the Andes. Eleven days of individualized instruction will boost both your competence and confidence. Escape the winter to paddle amid volcanoes, crystal-clear water, and summer fun of the town of Pucón.
$3250 (airfare not included)
Cascade Ropes Challenge and Ziplines
YOU WILL LOVE IT, AND EVERYONE ELSE WILL, TOO!
The home for the newest ropes challenge course and ziplines in the Boise, Idaho area. We offer 2-3 hour tours featuring our 17 element ropes challenge course nestled in the beautiful Idaho forest alongside the North Fork of the Payette River. Our ropes challenge course is a mixture of high rope elements and 6 exciting tree to tree ziplines. Looking for your next thrill? Bring your spirit of adventure we'll provide the rest.
Located just 45 minutes from Boise, Idaho, our Welcome Center overlooks the Main Payette River. After checking in, we will whisk you the 11 miles upstream in an air conditioned Sprinter to the ropes challenge course, After outfitting you in helmets, safety harness, and gloves, trained staff will go over instruction.. Then, your tree- to -tree adventure above the forest floor will begin. With trips departing daily at 10am and 2pm 7 days per week make reservations online or call 208-793-2221. With prices starting at $45 this is a great Idaho zipline adventure for any size group!
2-3 HOUR TOURS
Climb, balance, swing, and walk through the trees while you challenge yourself with this daring experience with rope bridges, aerial tightropes, swinging log steps, and moving platforms to cross high above the forest floor. Trips cost $45 for adults and $30 for kids 12 and younger departing daily.

GROUPS
Our high ropes challenge present unending opportunities for self-discovery and team growth, emphasizing risk-taking, trust, and coaching. The challenges enable participants to expand their comfort zones and recognize fears that may block personal achievement.

FITNESS
Fitness To take part in the tree top adventure course does require an element of fitness. The course can be physically and emotionally challenging. If you can climb a ladder unassisted, you should be fine.
REQUIREMENTS
Participants must weigh between 60 and 250 pounds and measure at least 54 inches tall. All climbers must wear closed-toe shoes, have long hair tied back, and be free from loose-fitting clothing or jewelry.
ADDRESS

7050 Highway 55
Horseshoe Bend, ID 83629
WE ARE OPEN

Office hours 8am-5pm daily (year round)
Welcome Center hours: 8am-6pm daily May-September
PHONE
EMAIL
We are not affiliated, associated, authorized, endorsed by, or in any way officially connected with any other company, agency or government agency. All product and company names are trademarks™ or registered® trademarks of their respective holders. Use of them does not imply any affiliation with or endorsement by them. Retailers are under no legal obligation to accept offers or coupons.