3711 East Longwing Lane, Meridian, ID, USA
Village Cinema
3711 East Longwing Lane – The Village at Meridian, Meridian, ID 83646
Guest Services: (208)995-2942 
Movie Showtimes: (208)846-TIME
All auditoriums feature wall-to-wall screens and all-stadium luxury seating.
 Motion Seats available for select features.
Reserved Seating – for Advance Tickets with a low service fee, click a showtime below.
Private Party Room and Theater Rentals available – MORE INFO
VIP21
In-Theater Dining MENU
is Private Balcony Seating where you can drink and dine in your seats while enjoying the movie* in companion style Love-Seats
Enjoy full waiter service prior to your showtime
This area is exclusively for Adults 21 and over. Valid ID is required.
Look for the  notation when selecting your movie
* (Food, alcoholic beverages, and waiter service is only available in VIP for shows starting after 3:30 pm on Mondays, Wednesdays, and Thursdays. Full service is in effect all day Tuesdays, Fridays, Saturdays, and Sundays)
Backstage Bistro 
Restaurant & Bar MENU
For Reservations, Please Call: (208) 995-2943
Upstairs at the Village Cinema is a casual and convenient dining option perfect for the whole family
Open daily for Dinner and serving Lunch Tuesday, Friday, Saturday & Sunday
Enjoy a meal or cocktails alfresco out on the patio overlooking the fountains
Offering "Happy Hour" every day from 4-6pm!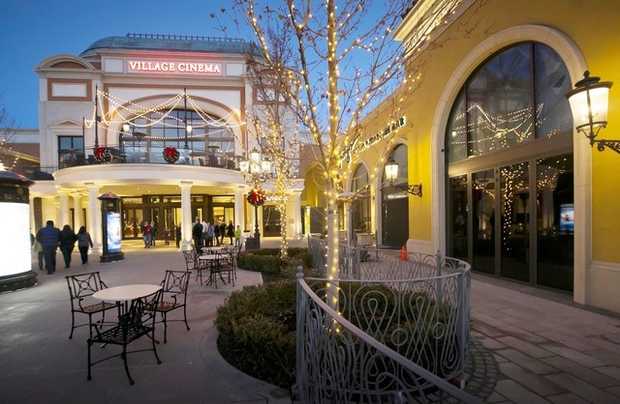 Ticket Prices
GENERAL ADMISSION $10.00(Age 12 and older*)
MATINEE $7.50 (Shows starting before 6:00PM)
SENIORS $7.50 (Age 62 and older)
CHILDREN* $7.50(Age 11 and under)
Ticket Prices do not include Idaho Admission Tax
UPCHARGES
(In-Theater dining for ages 21 and over )NO CHARGE
$2.00
$8.00
* FOR SELECT FEATURES ONLY
*2 and under are free to "G" and "PG" movies only, when sharing a seat with a ticket holder.  All ages require a ticket to PG-13 and R rated movies.
*No child discount for "R" rated films.  Children of all ages will be charged full general admission for all rated R movies.  No one under 17 is permitted to attend any R-rated movie unless accompanied by their parent or legal guardian over the age of 21.
SPECIALS
$5.00**
EARLY BIRD SPECIAL $6.50*
*3D,  D-BOX and GIANT SCREEN / DOLBY ATMOS surcharges still apply.
**Not valid on opening day of any feature or on Holidays. Not valid for special engagements. 3D,  D-BOX and GIANT SCREEN / DOLBY ATMOS surcharges still apply.
---
Movie tickets purchased online through our site or Fandango, include a non-refundable Transaction Service fee.
---
Backpacks/Packages/Bags:
To ensure the safety of our guests and employees, we reserve the right to inspect any backpacks, packages or bags entering the theater.
Thank you for your cooperation.
Special Event
Click the links below for information:
CONTACT US
Village Cinema

3711 East Longwing Lane – The Village at Meridian, Meridian, ID 83646
Guest Services: (208)995-2942 
Movie Showtimes: (208)846-TIME