WELCOME TO
DOMAINS FOR-SALE.COM
---
ABOUT US
We started collecting domain names over 20 years ago as a hobby and today we proudly own over 4,000 premium ".com" IP addresses. What started as a hobby has grown into a modern day intellectual property frenzy and a URL boom. The first thing every modern day entrepreneur needs to begin their business is a brand name specific ".com" domain name that reflects their products or services, brandishes their name or slogan and is easy to remember for all future customers and current clientele.
Domains For-Sale.com is owned and operated by Digital Advertising Venue Enterprises, LLC and it's the (dba) name we do business as online for obvious name recognition reasons.
---
HOW IT WORKS
You've landed on our page either because you typed in the

".com"

domain your interested in or from an invite or online search that led you here.
Simply Email us telling us which URL you're interested in and we'll get in touch with the price of the

".com"

domain you want.
We'll also review any

OFFER

that you'd like to make and answer back in a timely manner.
CONTACT US
---
WHAT YOU NEED TO KNOW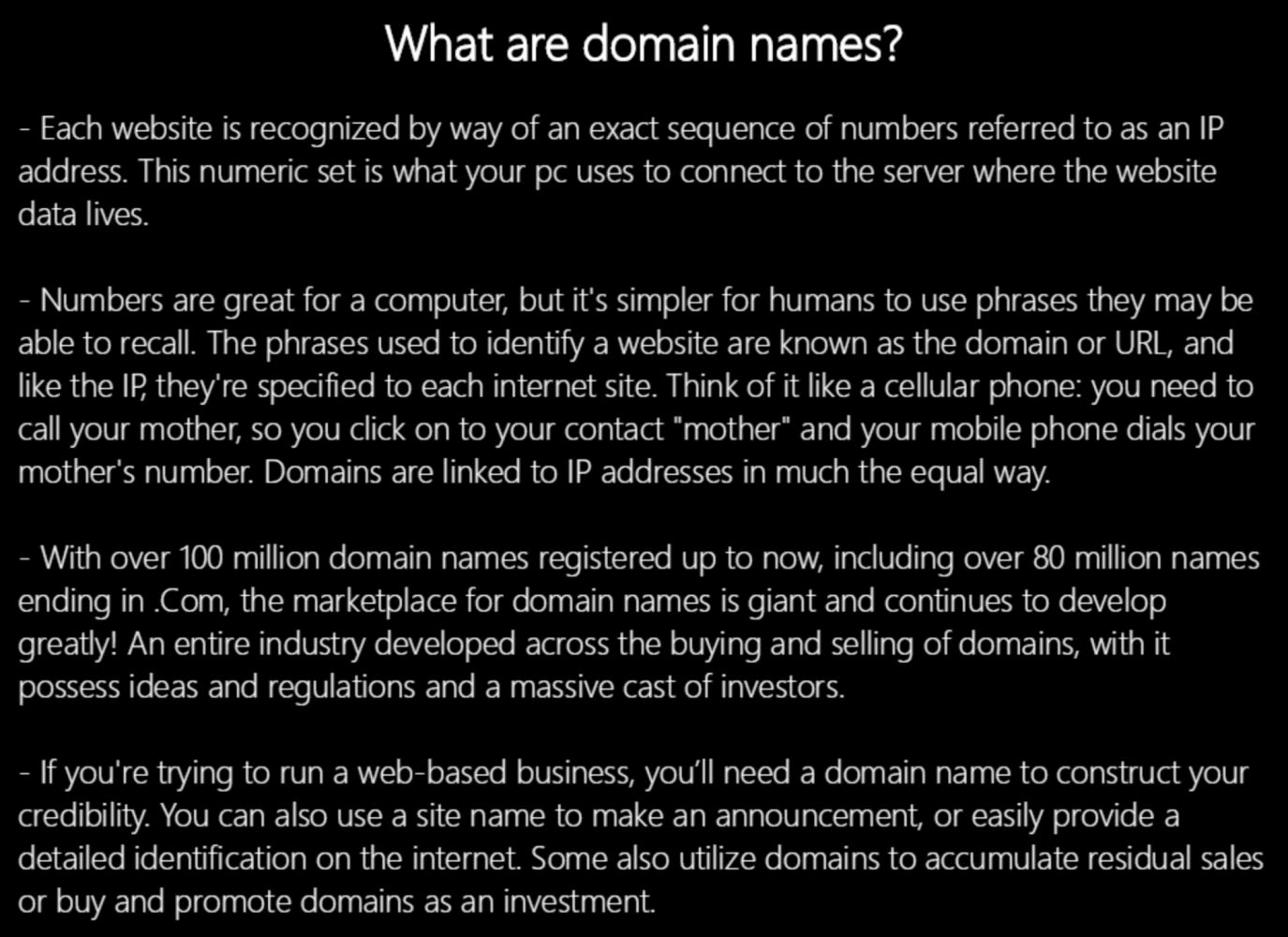 ---
MORE HELPFUL INSIGHT

---
WE OFFER PREMIUM DOMAINS

---
THE VALUE OF BETTER DOMAIN NAMES
(Watch This Short Video& Learn More)
Frank Schilling, world renowned domainer and director of DomainNameSales.com, explains what makes a domain name valuable, and provides insight into the future of the internet namespace.
---
We have partnered with the most trusted names in the industry today and we've been doing business with our registrar (Enom) for more than 20 years now.   
"A premium domain allows you to get traffic quicker, and has inherent credibility with consumers.
An accurate domain name can spare you a considerable deal of cash in the future. It's likewise expanding its incentive and value year after year.
A domain name match has the most noteworthy weight in search ranking and positioning!
Compared with other promoting tools, a domain is a one-time investment, and you can utilize it for a long time. Individuals will recall and discover you online after some time.
---
PRIVACY & PROTECTION
We respect you and your privacy as well as your information. We do not and will not share or sell your data to anyone else ever for any reason. 
We've also partnered with another respectful and professional team @ Afternic that can act as the third party broker to ensure safe and secure transfers as well. 
---
Listed in Alphabetical Order
MORE COMING SOON!
We are not affiliated, associated, authorized, endorsed by, or in any way officially connected with any other company, agency or government agency. All product and company names are trademarks™ or registered® trademarks of their respective holders. Use of them does not imply any affiliation with or endorsement by them. Retailers are under no legal obligation to accept offers or coupons.