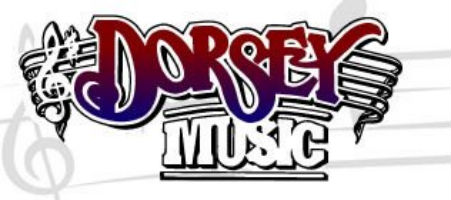 Dorsey Music has been serving the Treasure Valley musical community since 1969.
ABOUT US
Owner Dorsey Wheeler is a former school band director with a degree in Music Education from Weber State University.
The Dorsey Music staff is a diverse group of professional musicians with expertise in every field.
We strive to provide the best service and great selections of every musical instrument and all accessories.
We proudly offer…

Who We Are
Dorsey Music has the largest selection of musical instruments for rent or to purchase in the state of Idaho.
We have customers come in from out of state for our wide selection of Orchestra instruments, including 1/4 and 1/8 upright basses. Our selection of Band Instruments ranges from beginner to step-up and on to professional instruments. We have over 1000 Guitars to choose from, as well as over 100 Ukuleles. We have Drums and percussion instruments of all kinds, with a wide variety of ethnic percussion instruments in stock. We have Grand Pianos in both of our showrooms, as well as the award winning Grand Hybrid Digital Piano. We also carry a wide variety of keyboards and synthesizers, and Dorsey Music carries more Public Address and Speaker boxes than any other music store in the state.
Dorsey Music has a full service repair shop on-site in both stores, with services ranging from setting sound-posts and replacing strings all the way up to the Treasure Valley's only Gold level Fender gear-head guitar repairman. We do most repairs in the store, so you can actually talk to your repair person. Dorsey Music repairs Orchestra, Band, Guitars, Public Address systems, and most other instruments.
Dorsey Music's prices are competitive with any other online store, and the Dorsey Music staff is a diverse group of professional musicians with expertise in every field. We are always happy to help you understand what you are buying and we can explain exactly what makes one instrument better than another. We strive to provide the best service as well as a great selection of musical instruments and accessories.
Dorsey Music is quite simply Idaho's most complete music store. Come on in and check us out!

SHOP US NOW
Click on the links below for more information:
FEATURED DEPARTMENTS
ALL DEPARTMENTS
OUR RENTALS

CONTACT US
Visit our two locations below, or e-mail us at [email protected]
Wonderful Ryan playing at the store today! Lovely young man!#grandpiano #grandpianist

Posted by Dorsey Music on Thursday, September 27, 2018
Taylor Roadshow 2015 Event - Demo of the T5Z by Marc Seal

Check out this new addition to the Taylor T5 family at Dorsey Music. Designed with electric players in mind, the T5z brings more of an electric guitar look and feel to the popular hollowbody hybrid electric-acoustic T5 series. Electric-friendly features include a more compact body than the original T5, plus a 12-inch fretboard radius and jumbo frets that making bending strings easier. If you're looking for a versatile stage or recording guitar that blends the feel of an electric with a full range of acoustic and electric tones, the T5z gives you an essential musical tool.

Posted by Dorsey Music on Tuesday, September 15, 2015
We are not affiliated, associated, authorized, endorsed by, or in any way officially connected with any other company, agency or government agency. All product and company names are trademarks™ or registered® trademarks of their respective holders. Use of them does not imply any affiliation with or endorsement by them. Retailers are under no legal obligation to accept offers or coupons.