8551 Highway 16, Eagle, ID, USA
1 (208) 938-8986

Firebird was founded by the late Bill New and his wife Ellanor back in 1968. The expansive drag racing facility was built from scratch paralleling Highway 16 frontage in a direction from south to north. Hosting nearly fifty racing days each season, the NHRA member track traditionally begins each season in April and continues through the end of October. In total, literally tens of thousands of fans and racers attend events every season.
Operated today by the second generation of the New family, sometimes referred to as the New Crew, each of them are dedicated to following the same motto, "We strive to provide a clean, first-class venue for the racers and spectators to enjoy our sport. Often called the Firebird experience, we will go out of our way to create affordable and action-packed fun for your entire family.
Furthermore, we jump start each race season with the Boise Roadster Show staged at Expo Idaho. As Idaho's largest motorsport's event, the show is a three-day and night ISCA-sanctioned rod, custom and truck show that traditionally falls on the second weekend of March.
In the first person, meet the management team who help to run the Firebird race track:
Job Opportunity
If you have interest in joining the Firebird team, please fill out the link to the job application and either email it or fax to 208 938-8961.
THU 08/08/19 – SUN 08/11/19 | 8:00 AM – 10:30 PM
Firebird's signature event of the season, the 48th Annual Pepsi Nightfire Nationals returns to Idaho's premiere motorsport's facility on August 8-11, 2019.
SAT 08/24/19 – SAT 08/24/19 | 8:00 – MIDNIGHT
The Peterson Chevrolet Midnight Drags is set for Saturday, August 24. Street Legal grudge action will be offered from 8 pm until Midnight to help encourage racing on the strip, not the streets.
FRI 09/06/19 – FRI 09/06/19 | 6:30 – 10:30 PM
The final stop in the Fairly Reliable Bob's Club Challenge Series is set for Friday night, Sept. 6, with gates opening at 2 pm and first round of racing at 6:30 pm.
SAT 09/07/19 – SAT 09/07/19 | 4:00 PM – MIDNIGHT
Double header night of fun as we combine Import Fall Jam with a Midnight Grudge Drags with racing under the lights this September.
SAT 09/14/19 – SAT 09/14/19 | 2:00 PM
We enter the stretch run of the championship chase and the Boise Muffler Gold Cup Showdown event. A number of eliminators will be offered on the first day of a double header weekend.
SUN 09/15/19 – SUN 09/15/19 | 2:00 PM
Hundreds of racers will compete at the Best of Detroit event featuring the Chevy Cup, Ford Cup, Buick-Olds-Pontiac Cup & Mopar Cup on Sun., Sept. 8.
SAT 09/21/19 – SAT 09/21/19 | 9:00 AM
The 15th Annual Fall Warm Up & Swap Meet presented by Thrifty Nickel returns to Firebird on Saturday, September 21. The event features an automotive swap meet and Drag Racing on the quarter-mile.
SAT 09/28/19 – SAT 09/28/19 | 7:00 – 11:00 PM
The final Peterson Chevrolet Late Night Grudge Drags is set for Saturday night, September 28 at Firebird. Unlimited grudge racing will offered from 7 pm till 11 pm.
SAT 10/05/19 – SAT 10/05/19 | 10:00 AM
Here's your chance to come run the wheels off your car, truck, motorcycle, sled or junior for five unlimited hours of fun at the Open Test Day on Saturday, Oct. 5.
WED 10/09/19 – SUN 10/13/19 | 8:00 AM – 6:00 PM
The incredible NAPA Auto Parts Halloween Classic event returns over five days and nights on October 9-13. No other event all season long matches the fun you'll experience at the last major event of 2019.
SAT 10/19/19 – SAT 10/19/19 | 10:00 AM
Here's your final chance to come run the wheels off your car, truck, sled/bike for five unlimited hours. The Last Blast Open Test Day is on Sat., Oct. 27.
SAT 11/23/19 – SAT 11/23/19 | 8:00 PM
Champions will be crowned at the season closing Award's Banquet is set for Sat. night, November 23, at The Riverside Hotel in Boise.
RACING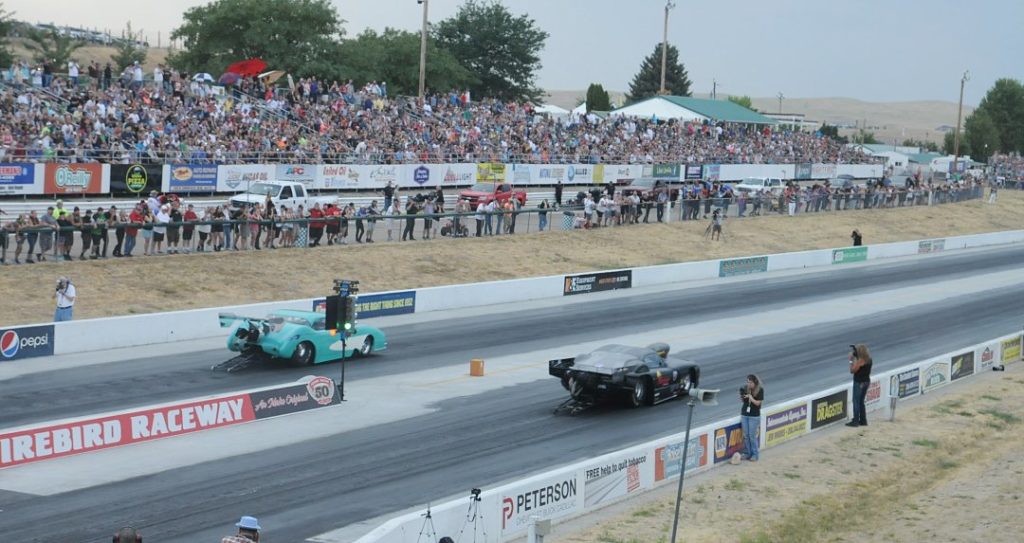 THE TRACK

Click on the links below for more information:

FIREBIRD RACEWAY
Phone: (208) 938-8986 / Fax: (208) 938-8961
OUR LOCATION
8551 Hwy 16 Eagle, ID 83616