2121 East Plaza Loop, Nampa, ID, USA

LOCALLY FAMILY OWNED AND OPERATED SINCE 1954
Get to Know Us
Nampa Floors & Interiors is a Must-See and Must-Feel Place
Since its' inception in 1954, Nampa Floors and Interiors has been an industry leader in custom flooring, countertops, window coverings, lighting, and more.  Family owned and operated, we pride ourselves on being a company dedicated to quality of product and customer experience.  We believe that hard work, honesty, and integrity are the keys to a successful business, and that shines through in our day-to-day operations.  Come in, relax, and let our experts handle all your design needs.
"I cannot say enough great things about Nampa Floors! Sure, the selection is extensive and represents the full gamut of styles and price points, but where they truly shine is in their customer service. They have a team of incredible designers and took such great care of us. Custom builds can become overwhelming quite quickly, but their consistent patience, professionalism and creativity kept us relatively sane ?  Whether you're starting a new build or remodeling/updating an existing structure, I would enthusiastically recommend Nampa Floors." –Jackie F., Boise
"I HIGHLY, recommend Nampa Floors and Interiors for all your flooring needs! The staff could NOT have been more helpful to us and, had some amazing and very beautiful flooring and tile suggestions to make our new home, "pop"! ?  Huge kudos to this wonderful company and its' excellent customer service!" – Lisa V., Boise
"As an Interior Decorator these past 15 years I have had the pleasure of working almost exclusively with Nampa Floors, due to their super friendly
and knowledgeable sales people and fair prices.  I can't say enough about the sales staffs' product knowledge, attention to detail and positive attitude!  In addition to all this, Nampa Floors is a local, family-owned business which I truly appreciate and respect.  I never hesitate to recommend them!" – Vicki H., Boise
Click on the link below for our SALES and SAVE with us today!
Click on the links below for more information:
Click on the links below for more information about our:
Flooring Products
Countertop Products
Window Coverings
OUR STORY
At Nampa Floors and Interiors, we are proud to be a company based on quality and integrity from start to finish. We have been blessed with a team of highly skilled artisans and craftsmen specializing in the detailed fabrication and precise installation of granite, quartz, stone, and solid surface countertops.
Nampa Floors and Interiors imports granite, quartz, and stone directly from all over the world which helps to reduce costs and allows us to select specific products. Through the use of cutting edge equipment, unsurpassed design innovation, and the work ethic of experienced employee teams, Nampa Floors and Interiors has truly been an industry leader for more than 60 years. From our products, to our customers' experience, we set ourselves apart from the rest."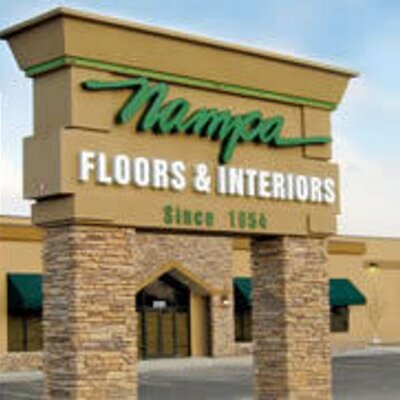 NAMPA SUPER STORE
2121 E Plaza Loop
Nampa, ID 83687
Phone: 208-466-8461
HOURS OF OPERATION
Monday–Friday 8am-5:30pm
Saturday 10am-3pm
Closed Sunday
SOUTH BOISE STORE
1276 S Maple Grove Rd
Boise, ID 83709
Phone: 208-376-6363
HOURS OF OPERATION
Monday–Friday 8am-5:30pm
Saturday 10am-3pm
Closed Sunday
STATE STREET STORE
5874 W State St.
Boise, ID 83703
Phone: 208-854-1199
HOURS OF OPERATION
Monday–Friday 8am-5:30pm
Saturday 10am-3pm
Closed Sunday
We are not affiliated, associated, authorized, endorsed by, or in any way officially connected with any other company, agency or government agency. All product and company names are trademarks™ or registered® trademarks of their respective holders. Use of them does not imply any affiliation with or endorsement by them. Retailers are under no legal obligation to accept offers or coupons.