201 Municipal Drive, Nampa, ID, USA
WELCOME TO
WARHAWK AIR MUSEUM
The Cost of Freedom, Honor Those Who Paid its Price
---
OUR STORY
WARHAWK AIR MUSEUM
The Warhawk Air Museum is a not for profit organization funded entirely by individual donations and private foundations. The mission of the museum is to teach and preserve America's history during times of war from the home front to the war front and aviation history from the advent of flight through the space age. The Warhawk Air Museum encourages an educational experience about the technology, culture, and social changes that have occurred in North America during times of war.
WHY WE DO WHAT WE DO:
Dignify the pursuit of freedom.
OUR MISSION STATEMENT
To educate the world about the cost of freedom and honor those who paid its price.

ABOUT THE MUSEUM

The Story of Co-Founders John & Sue Paul
The Warhawk Air Museum was brought to life in 1989 by our co-founders John and Sue Paul as a place to preserve military aviation history. The museum has since become an educational destination for over 5,000 school-age children and 25,000 visitors each year.
Love at First Sight
It all began with John Paul's passion for airplanes. In the 1950s, he watched and listened as two Corsair fighter planes ripped through the sky over his third-grade classroom. He purchased his first plane by the time he was 20: a Fairchild PT-19 WWII trainer with an open cockpit.
Further down the road, John met a woman named Sue Painter and the two fell in love. In 1964, the couple married and purchased a P-40E shortly after, which they restored at their home in California.Source
Unearthing History
Many years of restoring planes passed when in 1978, the couple discovered parts of a P-40N buried in a Canadian farm field.Source  John nicknamed the plane "Curtissaurus Rex" upon seeing the shape of the plane. They received help from a local farmer who remembered watching the burial of the plane 23 years earlier. In order to bring the plane back to California with them, they spent two days salvaging the buried parts, digging them up and loading them onto a truck.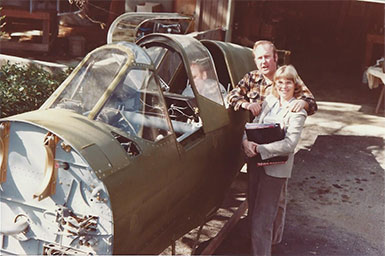 John and Sue Paul in their driveway in Alamo, CA. Early stages of the P-40E restoration.
The Museum Is Born
In 1986, Sue and John Paul moved to Boise, Idaho with two WWII era planes. When John began restoring a third plane in a hangar at the Caldwell Airport, people gathered to watch and witness the revival of history. Visitors began leaving boxes filled with WWII memorabilia, like uniforms and equipment, with notes attached that said, "Maybe you can do something with this." The Paul's knew they needed to preserve this history.
The museum began in that hangar at the Caldwell airport, but by 2000, there were so many donated pieces of history that they decided to relocate to Nampa.Source
Collecting History
In the ensuing 24 years, the museum has grown immensely. What started as a tribute to WWI/WWII veterans has expanded to include veterans' history from the Iraq War, Persian Gulf War, Vietnam War, Korean War and Cold War.
Throughout the museum, donations from community members are also on display to educate future generations about national and local history. Families of local veterans and the veterans themselves have donated one-of-a-kind collections of uniforms, photos, medals, gear and written narratives describing battle experiences.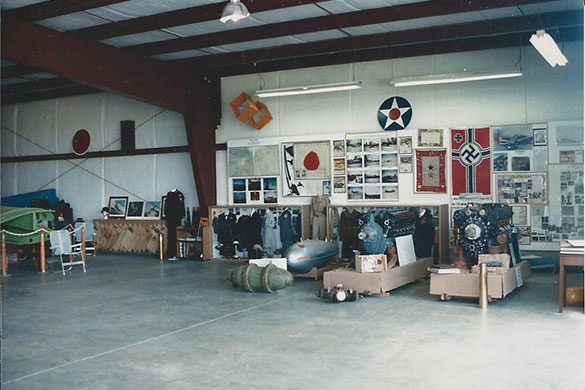 The original Warhawk Air Museum in a small hangar at the Caldwell, ID airport. 1998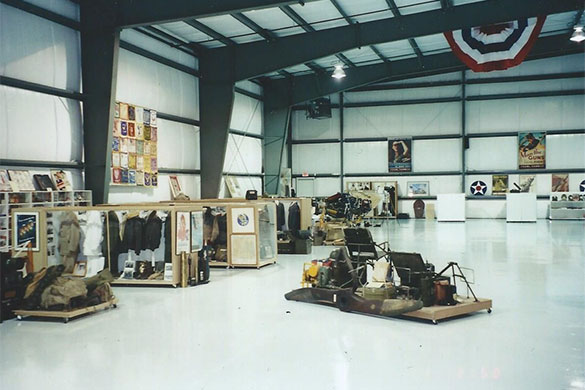 The first Warhawk Air Museum hangar built in Nampa, Idaho. It opened in 2001. Shown is the small collection brought from Caldwell. These are the original wood-framed display cases built by John, designed and organized by Sue.
Aviation Collection
While the plane the Paul's uncovered in that Canadian farm field is no longer in their possession, there are a number of permanent aircraft included in the museum's collection, including:
• Fokker D. VIII (Frame)
Find the museum's entire collection, including past and present visitors on our Aviation Collection page.
To this day, John spends most of his time in the maintenance hangar working on the old Warbirds to keep them running.
"Boise Bee" North American P-51C Mustang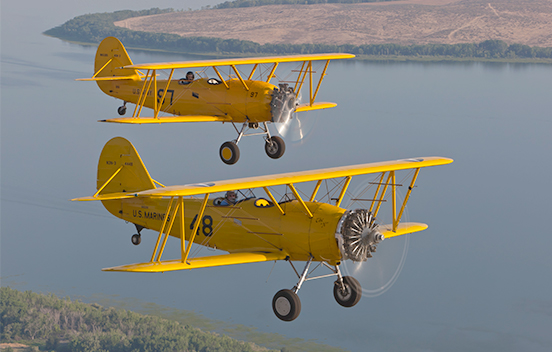 "Yellow Peril" Naval Aircraft Factory N3N
Mikoyan Gurevitch MiG-21
Serving Their Community
Sue Paul is a co-founder of the Warhawk Air Museum where she has served as the volunteer Executive Director for 26 years. Before taking on a full-time volunteer role at the museum, she spent her time teaching English as a Second Language to adults as well as tutoring adults with hearing and vision loss.
Like John, Sue is also a pilot. She is a member of the 99's, an international women's flying organization founded by Amelia Earhart.
Since leaving California, she has been an important part of the Boise community, serving as the Chairman of the Boise Chamber of Commerce International Committee and as an Idaho Delegate to the White House Conference on Small Business in Washington, D.C. In 2017, Sue was selected as an Idaho Business Woman of the Year.
John and Sue Paul have been married for 52 years and now have three adult children and six grandchildren.
Amelia Earhart 1937 in the The Ninety-Nines
Sue Paul and her passion for vintage aircraft and piloting.
Explore Our Nation's History @ Warhawk Air Museum
The Warhawk Air Museum was created to preserve history and educate future generations about American veterans and their contributions to the freedoms we know as Americans today.
As a not-for-profit organization, we are funded entirely by individual donations and private foundations.
---
Click on the links below for information:
2023 SPECIAL EVENTS
See our 

calendar 

for more details about these events.
---
CONTACT US
HOURS:
Tuesday–Saturday: 9am–5pm (Summer Hours)
Sunday: 11am–4pm
Closed Monday
ADMISSION
General Admission:

$15.00


Seniors:

$12.00


Veterans/Military (with ID):

$12.00


Children 5–12:

$5.00
ADDRESS
201 Municipal Drive
Nampa, Idaho 83687
Have questions about our organization or want to get in contact with us?
We are not affiliated, associated, authorized, endorsed by, or in any way officially connected with any other company, agency or government agency. All product and company names are trademarks™ or registered® trademarks of their respective holders. Use of them does not imply any affiliation with or endorsement by them. Retailers are under no legal obligation to accept offers or coupons.